I am joining in with one of my favorite blogs,
Love, Fun and Football
, and some other girls for a spending freeze in January.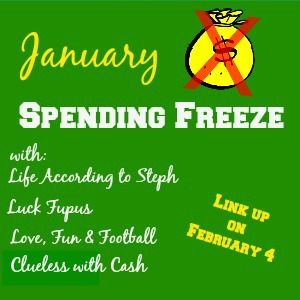 After all the holiday shopping, cooking, baking and presents, we are in desperate need to get things back on track. Having a spending freeze in January will help us get back to the way we want to spend regularly. We implemented a new revised budget and we have high hopes for our financial goals for the year.
Yearly Financial Goals:
-
Save 20% of our income
. Between retirement, emergencies and other savings we want our number to be at 20%. Last year I think we were close to 15%.
-
Be better at sticking to our budget.
We have always had a budget in place, but we tend to use it more as a guide than an actual budget. I would like us to get to a point where we evaluate our budget
before
we decide to spend the money.
-
Save for our 2014 trips
. We have some very large trips planned for
2014
and all of them are going to cost money. We hope to have the money in the bank before we go on our vacation. I also think this will help us to spend less while on vacation since we will have a set budget before we leave.
-
Do not touch Emergency Fund
. We have some money set aside for emergencies, but we tend to pull money out of there even when its not an emergency. Not ok.
-
Be more conscious of spending in general.
Spend less, save more.
For the month of January our spending freeze has some rules. We are going to stick to our budget completely, no exceptions. We have some "fun money" built into our budget so we will still be able to enjoy ourselves. We just have to make sure that when the money is gone we do not spend anymore. We will also have some modifications to our budget:
-We are not going to eat out just the two of us unless it is already planned out. For example, I have to go to Shreveport in the middle of January so eating food there is unavoidable.
-No trips to Target. They always suck us in to spending more than we planned.
-No Shopping. I got my shopping fix with all my Christmas money so I will not spend money on clothes in January.
-No "extras". Everything to be purchased must be planned out ahead of time.
Is this going to be hard? Yes of course. But I thnk it will be beneficial and help us pinpoint where we tend to spend too much money. Plus, it is on my
101 things in 1001 Days
so I may as well do it when I know others are doing it as well!